Teledyne Ryan AQM-34K
The Firebee series of target drones, developed starting in 1948, and the follow on RPVs (Remotely Piloted Vehicles) are still one of the most successful and versatile unmanned aircraft. The Drones were originally developed to be used as an aerial target by all three services. The manufacturer of the Firebee is presently Northrop Grumman, who acquired Teledyne Ryan Aeronautical in July 1999. More than 6500 Firebee targets of all versions have been built to date for the U.S. armed services.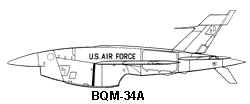 The USAF developed the reconnaissance RPV variant of the BQM-34A Firebee target drone starting in 1961 recognizing the risk to pilots in manned recon aircraft. At the time the only aircraft used for reconnaissance were the RF-101s, RB-47s and the U-2s.
Ryan converted a target drone to a reconnaissance RPV configuration under a project called "Fire Fly". The result was the Model 147A, which first flew in April 1962. The 147A was externally identical to the standard BQM-34A target drone but with an upgraded navigation system and increased fuel supply. The 147A, used the same J69-T-29 engine and was recovered by a two-stage parachute descent system as in the BQM-34A. The Model 147 drones were air launched from a Lockheed DC-130 Hercules. The 147SRE was equipped with an infrared strobe and Doppler radar. It had the short wings of the original BQM-34A, but the longer fuselage and higher-rated engine of the 147G/J
In 1969 the Air Force assigned the AQM-34 designations with various suffix letters to the RPVs. The AQM-34K (147SRE) was in service from November of 1968 to October of 1969. Most of the 20 manufactured with this designation were used operationally over South-East Asia. The RPV under restoration saw service in Viet Nam where its operational mission was surveillance, reconnaissance, intrusion detection and sensor deployment.
The drone was donated to the California Science Center in 1986 by Lawrence A. LaCotti, President of the Lear Siegler, Inc. Astronics Division. The Western Museum of Flight acquired the RPV in 2001.
Additional pictures of the Museum's AQM-34k, can be seen on the Teledyne-Ryan AQM-34 Firebee RPV web site,click here .
Restoration started in 2005 with the fabrication of the tan access panel covers as shown in the following pictures. Engine inlet and exhaust covers were also fabricated. Since the wing tips and tail parachute cover are similar to the BQM-34 still in use, efforts were made to obtain them. As a result the wing tips were obtained from Point Mugu and installed along with the missing vertical access panels on the vertical stabilizer and the tail parachute cone. The rudder and lower assembly were then fabricated and installed.
The last task was to sand the outer skin and repair any damage prior to painting.